Altai Expedition
Trip duration: 12 days
Level of Difficulty: Moderate
Accommodation: hotel in Barnaul, stationary tourist camping "Vysotnik" in Tyungur village, tented camp during active part of the tour.
Service: full package
Days before the main program
You can arrive earlier to spent some time in Moscow, St Peterburg or any place, just let us know: it must be stipulated in your Russian visa, we'd better book a hotel for you and can offer any program for you, please refer to www.moscowweekend.ru
Day 1
Arrive in Barnaul. Travel by bus to reach base camp "Vysotnik" (850 m), which is situated in a picturesque place on the bank of the Katun River near the village of Tiungur. 750 km, 12-13 hours. A "welcome" dinner. Accommodation in tents. Sauna and communal toilets are in a separate nearby building. There are also a café, a sports ground, a parking and a small hiking equipment rental center.
see photo (Katun River Bridge)
see photo (Chuysky Tract)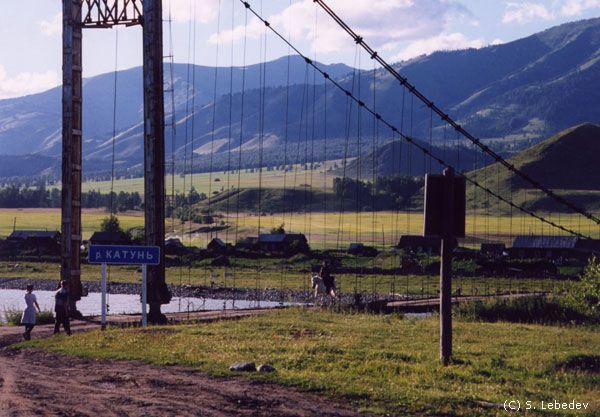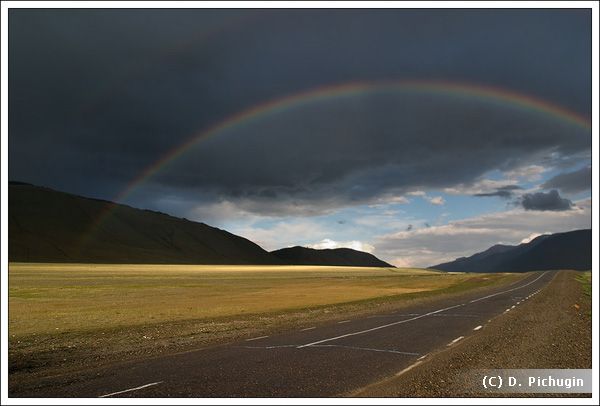 Day 2
Start. Passing through Kucherla, last populated area on the way to the mountains. We will follow a path through the forest. Today we have to overcome the Kuzuyak pass (1513 m). The pass isn't high but the walking is pretty hard - it is a test of our stamina. We make camp in a nice meadow on the banks of the Oroktoy brook (1100 m). 6-8 hours hiking, 19 km, 600 m altitude change.
see photo (Kucherla River bridge)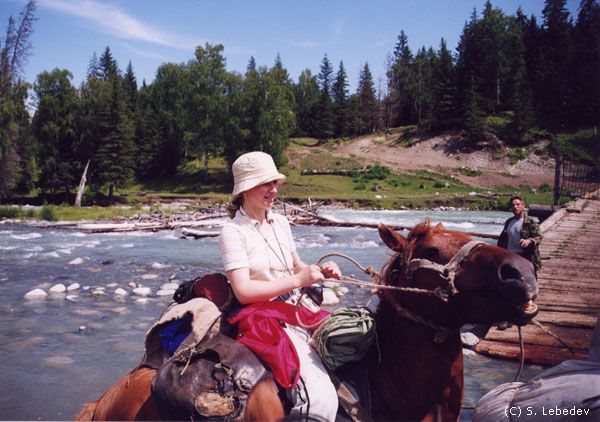 Day 3
Ascending along the Orokto brook to the Tukhman River (2000 m). We can see how the panorama changes from taiga- deep Siberian forest to high alpine meadows. Overnight is at a picturesque place with great panorama of Mt. Belukha - the highest mountain of Siberia - and surrounding peaks. 7-8 hours hiking, 14 km, 900 m altitude change.
Day 4
The trail we are following has the same height level and leads us to the picturesque Kulduairy Lake (2000 m). We may have a chance to see a Moral (a kind of deer) or a marmot. 7-8 hours, 20 km. Altitude change 100 m.
see photo (Badan flowers)
see photo (Marin Qoren)
see photo (Path goes up through taiga)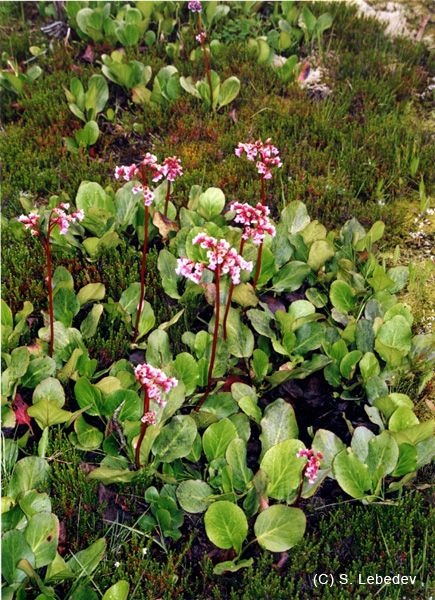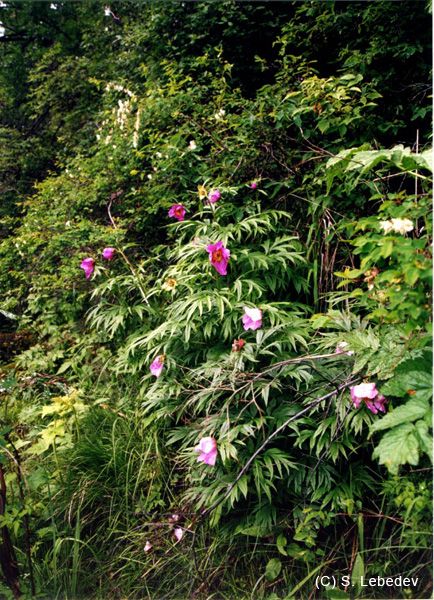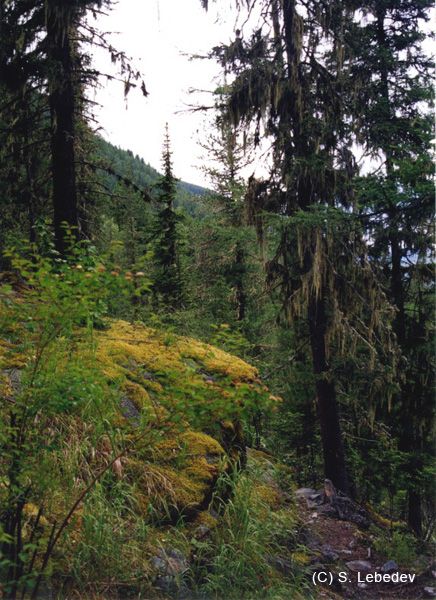 Day 5
The distance of our walking is short today: a moderate ascent and then we find ourselves at a plateau with some weirdly shaped rocks and stones. After a short but steep descent we reach our campsite on the banks of the Tekeliu River (1800 m). In the afternoon we have an optional hike upstream along the river to see two waterfalls, 4 km. 3-4 hours hiking, 10 km, altitude change 500 m.
see photo (Aktash Lake)
see photo (Camp on Aktash Lake)
see photo (Through dwarf birch brushland)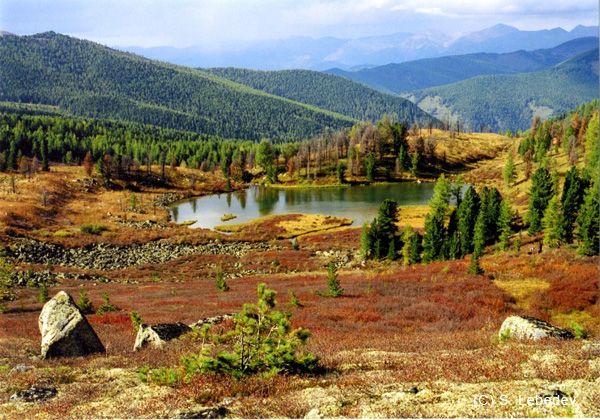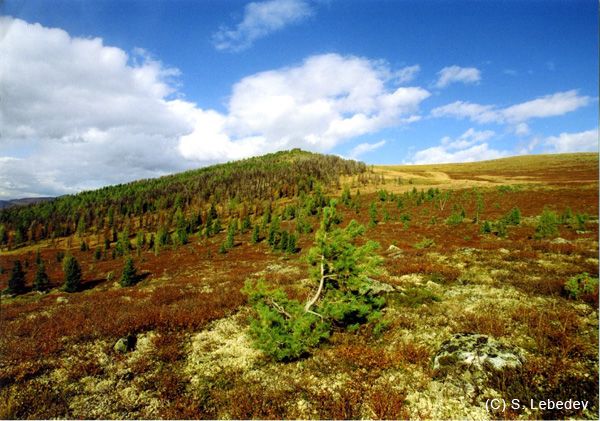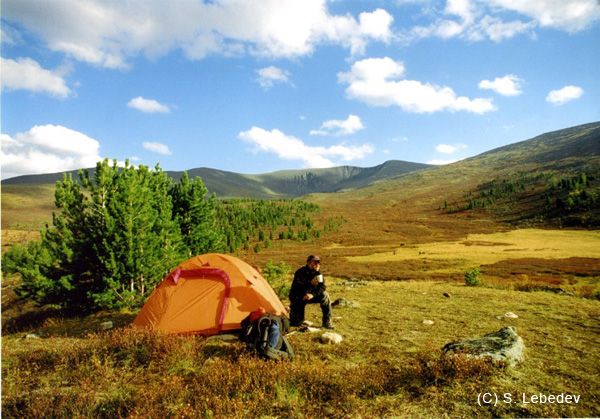 Day 6
Crossing the Tekeliu River and climbing the Sarybel pass. After long ridge traverse and steep descent we are coming to the Yarlu valley. Then we should cross the Ak-kem River and in a half of an hour we finally reach our permanent high camp (1950 m) where we have dinner and stay for one day. There is a canteen, a sauna and a traditional Altai building - ail. This camp boasts hypnotic views of the huge snowy massif of Mount Belukha. 7-8 hours, 15 km, altitude change 600 m.
see photo (Tekkelu River waterfalls)
see photo (Path to Second Tekelyu Waterfall)
see photo (Jarloo canyon)
see photo (In alpine zone)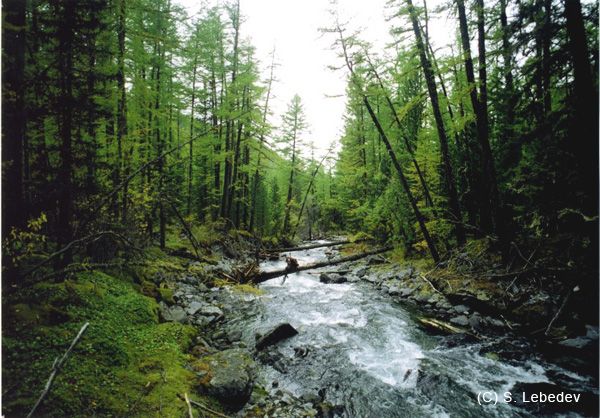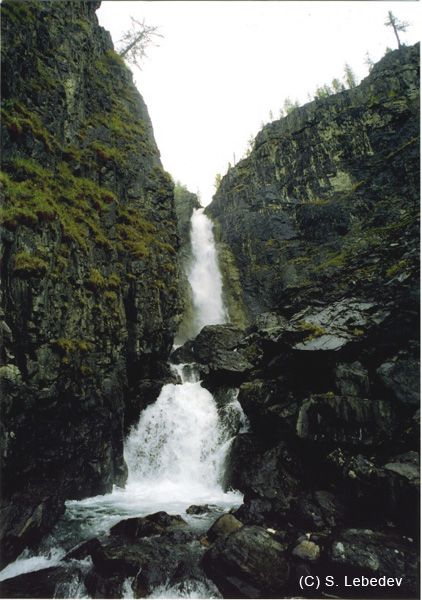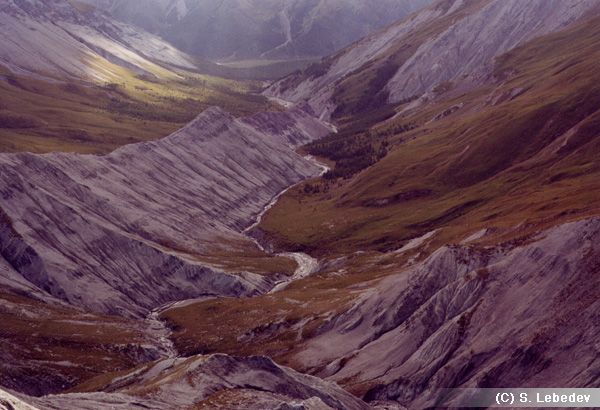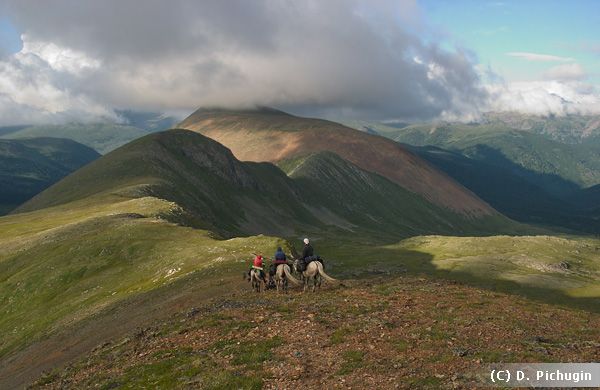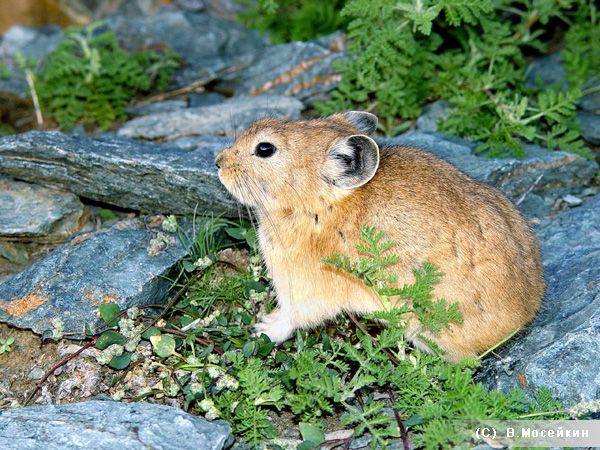 Day 7
An excursion day to the Ak-Ojouk valley, which is famous for its seven lakes all of different hues (5-7 hours hiking, altitude change 400 m), or to the Yarlu valley - the high energy place with "stones town" which was created by people visiting Yarlu for a meditation.
see photo (Akkem Lake)
see photo (View to Belukha Mountain)
see photo (Meteostation near the lake)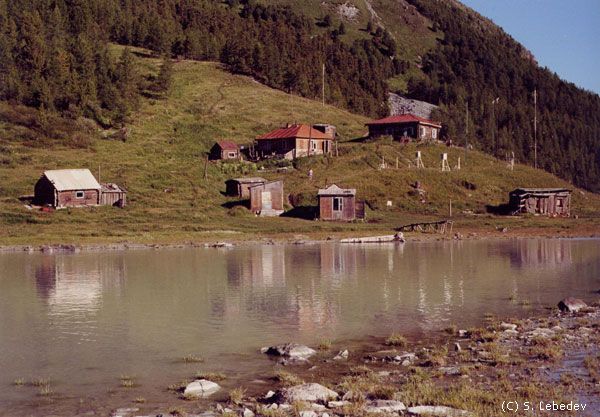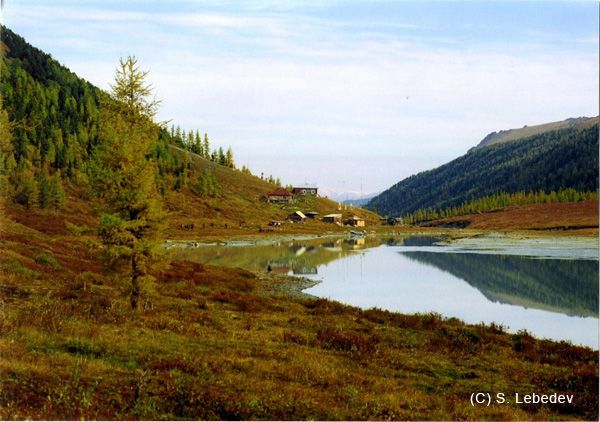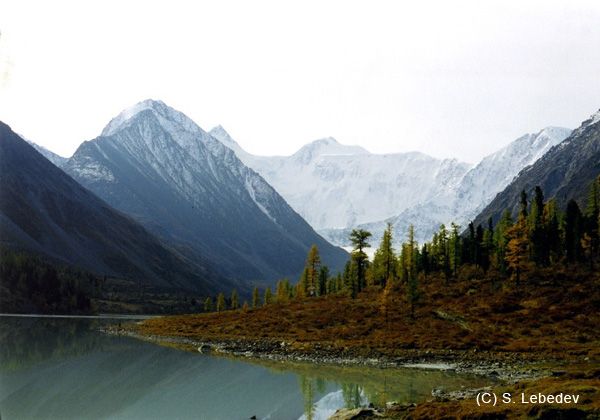 Day 8
Start the second part of our trekking. We have to work by climbing up the Karatiurek pass (3060 m). The descend from the pass is steep and goes on talus. We camp in the cedar forest. 6-8 hours hiking, 15 km, altitude change 1000 m.
see photo (View from Kara-Turek Pass to Belukha Mountain)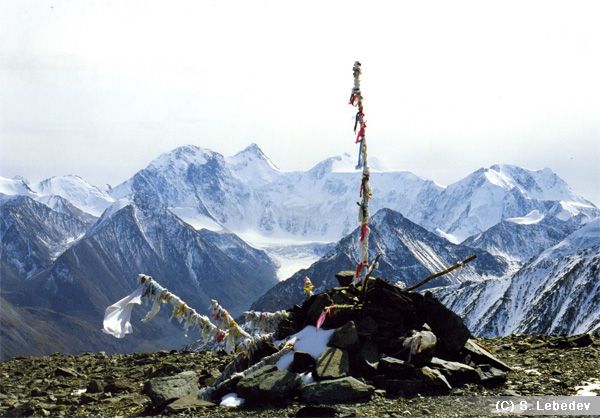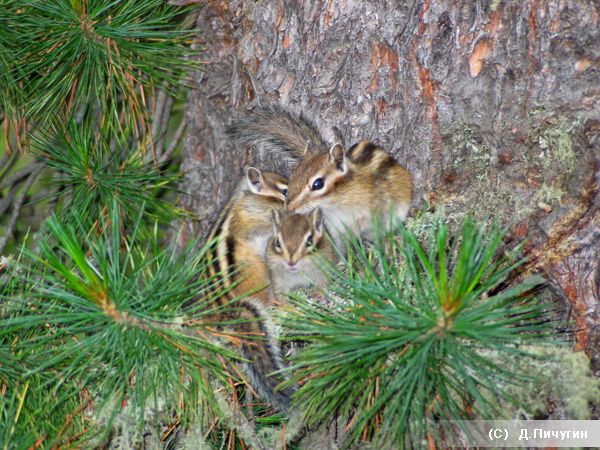 Day 9
Short ascent on a plateau "C and we are descending, through the taiga, to the incomparable the Kucherla Lake (1760 m). The water of the Ak-kem and Kucherla Lakes calls "dead" and "alive" accordingly. There is a lot of fish in Kucherla. The camp is at the shore of the lake. 4-6 hours, 13 km, altitude change 300 m.
see photo (Access to Kucherla lake)
see photo (Kucherla lake)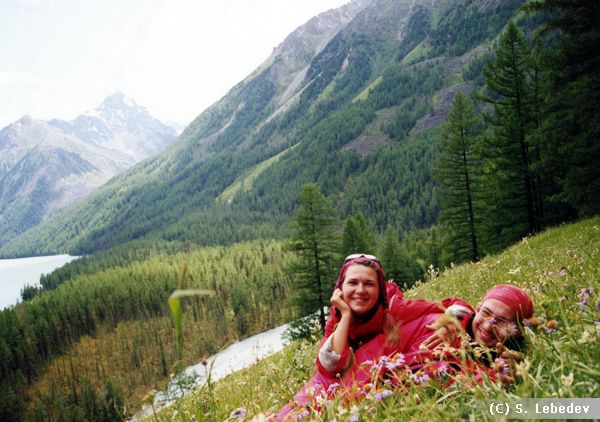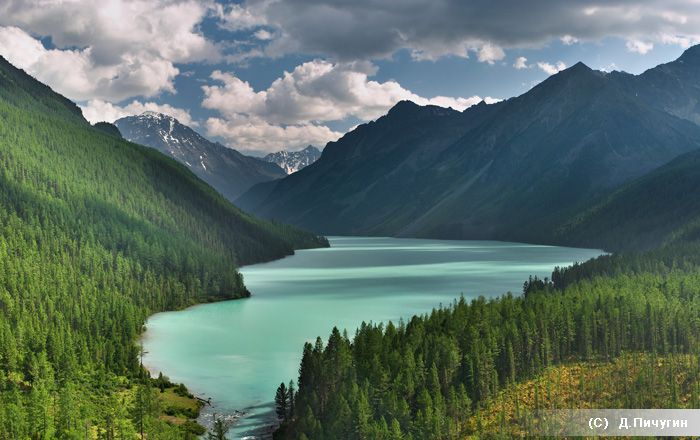 Day 10-11
Gradual descent down the Kucherla River. We make a stop to look at the ancient petroglyphs on a rock. Return to the b. c. "Vysotnik". 4-6 hours in each day. 45 km.
see photo (Kucherla Lake morning)
see photo (River Kucherla Valley)
see photo (Kichinek Lake)
see photo (Down along Kucherla River valley)
see photo (Active part last day)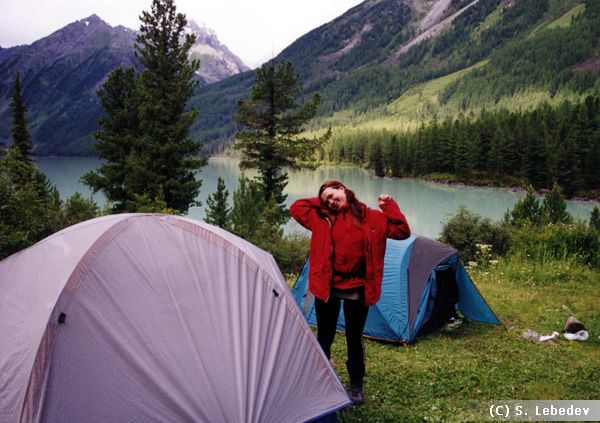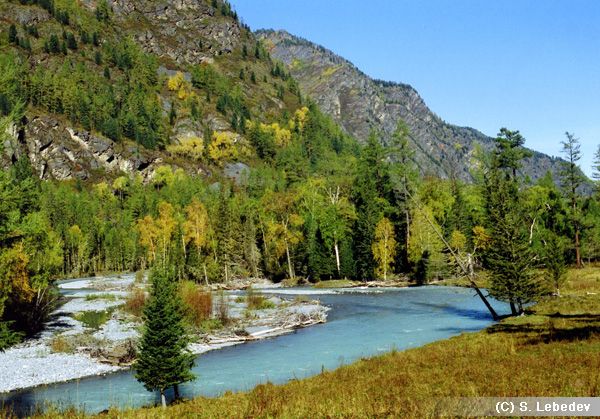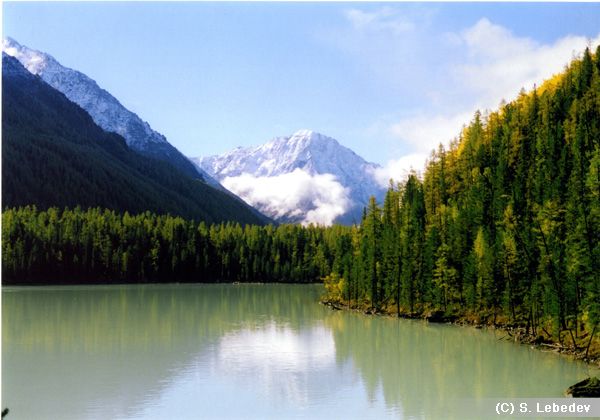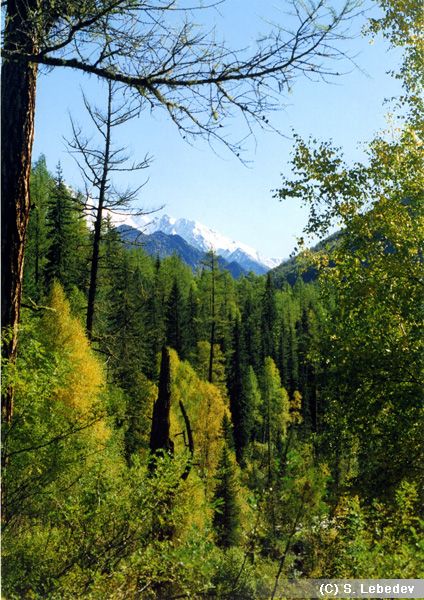 Day 12
Travel to the city of Barnaul.
Days after
You can stay to spent some time in Moscow, St Peterburg or any place, just let us know: it must be stipulated in your Russian visa, we'd better book a hotel for you and can offer any program for you, please refer to www.moscowweekend.ru
---

TREK CONDITIONS
There are 10 days of moderate to strenuous hiking on varied terrain (maximum elevation is 3060 m). Large proportion of the walking is quite demanding, though technically it is not hard, a reasonable degree of fitness is required. The trekkers either carry all their personal belongings plus 4-5 kg of communal equipment (tents, cooking pots) and food for 4-5 days or hire horses for the luggage transportation. The weather in mountains changes rather quickly. There may be precipitation there. The day temperature is +10+30, the night 0 +10. The guide is able to change the program because of the weather and the other troubles.

MEALS
"Len Alp Tours" provides the participants with 3 meals a day. In the base camps meals are at a cafe. On the trek the food is cooked on the open fire by a guide.

ESSENTIAL EQUIPMENT
"Len Alp Tours" provides the group with tents, cooking pots. You should bring the following items with you: foam sleeping mat, 3 seasons
sleeping bag; 3 season jacket shorts, t-shirt for hot weather, warm clothes (at nights it gets chilly), trekking boots, waterproofs and rucksack.

The price includes: Accommodation in tents at b. c. "Vysotnikh" Days 1 and 11; at "Ak-Kem" b. c. in 4 places big tents Days 6 and 7; FB (except meals in Barnaul and on the way Barnaul - Tiungur - Barnaul); trekking guide; communal equipment (tents, pots for cooking); mountain insurance, all permits and the registration, visa support.
The price doesn't include: Airfare Moscow - Barnaul - from EUR 530 return (subject to change in summer 2009); transfer by bus Barnaul - Tiungur - Barnaul with English speaking attendant ?C EUR 125 p/per; sauna: 1 h - EUR 35 p/group 1-10 person; Horses for the luggage transportation (from EUR 24 p/horse p/day); rafting along the Katun River to the mouth of Ak-kem River (18 km, 2 h) - EUR 130 p / group up to 10 persons; HTL in Barnaul (from EUR 25).
Extra services for foreign people:
accommodation in houses in Vysotnik Days 1 and 11?C from EUR 18 p/per; English Speaking trekking Guide ?C EUR 35 p/person; English Speaking assistant during check out - EUR 15 p/per.